DevPals strives to form long-term strategic partnerships with its clients. One of the most important questions is which business model to use to ensure both trusting relationships and flexibility in engagement requirements. To provide an accurate answer, the best business model must be based on a set of factors that must be classified based on specific use cases. It will define DevPals' and a client's working methodologies, delivery conditions, pricing, and other terms. We offer three business models based on the scope and duration of the project: Time and Material, a Dedicated Team, and a Fixed Rate.
---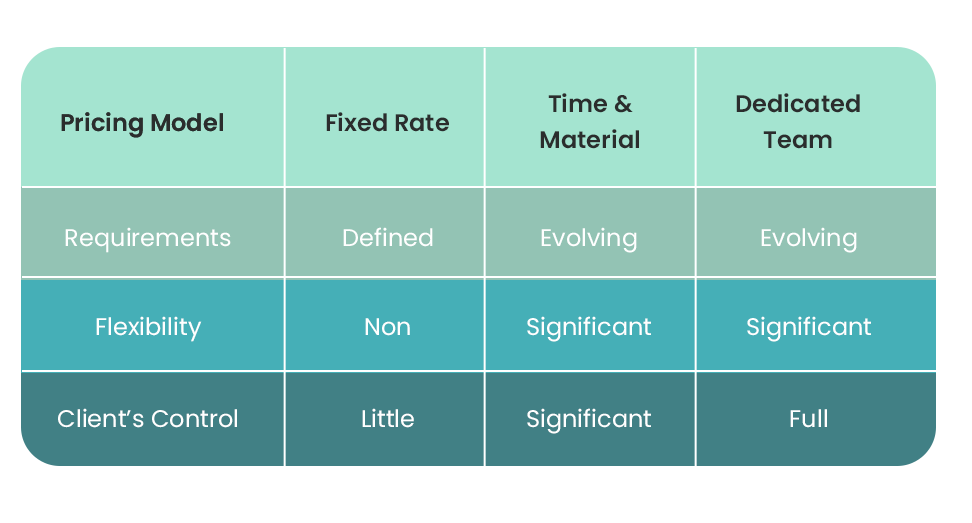 Model of Time and Material
The model is better suited for long-term projects with dynamically changing requirements, an undefined scope of work, and varying development team workloads. If the project is still in its early stages and there is insufficient data to properly estimate the final cost, or if the client wants more direct control over the process, this model allows you to define and change project specifications at any stage of its implementation. The size and workload of the development team, as well as the resources assigned to the project, can be adjusted in response to changing requirements, thereby optimizing both time and costs.
The Time and Material model has the following Advantages:


Both parties benefit from a budget that is flexible and negotiable, as well as a low risk.

It employs agile methodology, which is ideal for large and long-term projects where the end product cannot be predicted in the early stages.

Significant client control over the project, including on-demand task or enhancement implementation.

Flexibility in adding features and initiating change requests during the development process.
The Time and Material model has the following Drawbacks:


Client involvement necessitates both time and human resources.
Budget estimates may differ from final costs and are less controlled; the more changes clients request, the more they must pay.
There are no strict time limits or guarantees that the project will be completed on time.
Model of Dedicated Team


DevPals provides competent IT experts, equipment, and other resources based on project requirements in this model. In exchange, the client pays a single sum of money that includes each team member's monthly salary as well as the provider's fee. The client has complete management control over the project and team, and can manage resources and plan work scope at their leisure for maximum benefit. Dedicated team works as a seamless part of the client's infrastructure, shares the same perspective on project methodologies, and is keen on achieving the company's business goals.

The Dedicated Team model has the following Advantages:


Complete control over the motivation, and management of dedicated team members with a thorough understanding of the client's expectations and goals.
Suitable for long-term projects with ambiguous requirements and frequent scope changes.
Although workload and scope are not fixed, the budget is completely predictable.
The Dedicated Team model has the following Drawbacks:


Dedicated team members have fewer opportunities to learn new techniques outside of their project's area of expertise.
Clients must participate actively in communication and negotiation, as well as devote significant time to management.
Short-term project efficiency is low, and money is wasted if there are no tasks for the team.
Model of Fixed Rate


For small or medium scope short-term projects with clear and well-documented requirements, a fixed price model is preferable. It entails a specific scope and project specifics, a predetermined delivery period, and a fixed budget. When a client specifies a time frame and a detailed set of requirements for the end product that are unlikely to change throughout the project, DevPals provides a schedule and an estimated price based on the scope and complexity of the project, respectively. During the discussion, the main development stages are defined, and the waterfall methodology is used. This engagement model does not necessitate close client supervision, but it does imply some scope-related risk for both parties, as any deviations from the original plan will result in additional expenses.

The Fixed Rate model has the following Advantages:


Good for small and medium-sized projects with clear specifications and deliverables from the start.
Cost and timeframe are specified prior to the start of project work.
The client requires little supervision because all requirements are defined ahead of time.
Estimated deadline.
The Fixed Rate model has the following Drawbacks:


It is necessary to have the ability and time to precisely define requirements, timetables, and approval criteria.
Less adaptable in terms of managing additional features and changes, each request necessitates a re-negotiation of the delivery schedule and price.
There is a risk of quality issues and dissatisfaction with the end product due to a lack of direct communication between the client and the provider.
Conclusion


Most aspects of business models are negotiable, so if you want to work on a huge and long-term project, it is advisable to divide it into stages or task blocks and apply more appropriate pricing models to them. It is possible to mix multiple existing models to produce a better fit for each project and a win-win situation for all parties concerned.

Please contact us at any time for further information, and we will choose the model that best suits your project and business.